June 13 – 21, 2018:VAC Caravan (VAC Number U-47), Baker City, OR to Salem, OR – 25th Anniversary of the WBCCI Vintage Airstream Club. SOLD OUT
The Caravan will encourage strumming & picking along the way. It begins in Baker City & ends at the VAC Rendezvous two days before the Vintage Parade on Saturday, June 23rd. 
Starting in Northeast Oregon for two days at Mt. View RV Park in Baker City, (Wally Byam's birth place) visiting Wally's Museum & the Oregon Trail Museum. We travel through fields & canyons of wheat & ranch land to the John Day Fossil Beds National Monument, on to the Wilson Guest Ranch for a BBQ & cowboy music staying the night.
Next, down to the Columbia to Hood River, camping at the Western Antique Aeroplane & Automobile Museum. Going South from there by way of Timberline Lodge on Mt. Hood, to Bend for two days at the J-Bar-J Ranch for the Bend Classic VAC Music Rally, which will be open to VAC & all WBCCI camping & local non camping toe tappers & pickers. 
Starting the second segment in Bend with an Open House & BBQ at FlyteCamp, we drive to Crescent Lake Hoodoo USFS Group Campground that brings us to the Free Emigrant Road leading to Eugene. Going North again into the Cascade Range through Westfir, we stay at Belknap Hot Springs Resort on the McKenzie River before our last days drive into Salem to meet up with the VAC Rendezvous at Powerland Heritage Park in Brooks Oregon. 
The Caravan is in 2 segments:  Baker City to Bend (June 13-17), Bend to Salem (June 18-22). Both segments together have priority. Maximum number of rigs on the Caravan is 15. Sign up is in order of a $200.00 deposit, refundable before 1 March & applied to the Caravan kitty of $470.00 per rig, due 1 April. Kitty Fee is $270.00 for camping & $200.00 for 3 camp meals & 3 catered meals.
Caravan Leaders: Questions to: Paul Drag, pdrag1933@gmail.com . . . (949) 677-7512, Dal Smilie, dalsmilie@aol.com . . . (406) 461-3714
Send checks to: Shirley Bollinger, PO Box 99, Sutter Creek, Ca 95685,  moondogranch@me.com
---
June 17 – 20, 2018: BEND CLASSIC RALLY, 25th Anniversary VAC RALLY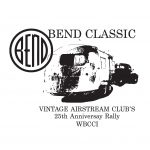 Campers pulling out by the morning of June 20th.  It will be held on the J Bar J Youth Ranch at 62895 Hanby Road, Bend, OR 97701. Fees are $25 per night the proceeds of which go to the Youth Ranch, a not-for-profit charitable organization.  
There is limited water and 110 electric available but there will be porta potties, so consider this as dry camping. Propane fires only!! The ranch is on a paved road and about 3 miles from the center of town.
The Rally is open to all vintage Airstreams, Argosys, Byam Holidays and Curtis Wright trailers and any other Airstreams on their way to the International Rally. It is a way point for the 2018 Baker City – Salem VAC Caravan The Bend Classic is urging all Airstreamers who play acoustic roots music to bring their instruments and play.
We expect to have some of Bend's bluegrass/old timey music community there also. If you don't play, come and tap your toes. Flyte Camp will host us at an open house and BBQ on June 18th. Bend has 140 restaurants, 36 micro breweries, a river running through it and lots to do.
---
Bend Classic Tow Show by Flytecamp.  June 18. 10:30-5:00 at Flytecamp, 62890 Peerless Ct, Bend, OR. Flytecamp is a nationally renowned vintage trailer restorer
This is an open house, BBQ and period tow vehicle show. Open to all period tow vehicles that are part of the VAC Caravan, Bend Classic VAC 25th Anniversary Rally, part of the VAC Rendezvous or parade.
VACation Oregon!
Contact Dal Smilie at dalsmilie@aol.com
---
June 20 – 23, 2018:  Vintage Airstream Club Rendezvous, Brooks, OR.  VACation in Oregon!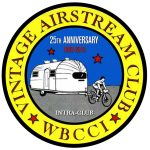 If you have a vintage Airstream, Argosy, Byam Holiday or Curtis Wright please join us at Powerland Heritage Park (antiquepowerland.com), 3995 Brooklake Rd., Salem, OR 97303 – June 20-23, 2018.  We will be dry camped behind the Northwest Vintage Car & Motorcycle Museum on the Powerland grounds.  Follow the signs or look for shiny aluminum.

While it is dry camping, there are two bathhouses on the property with showers and toilets.  Also, porta potties.  Cost is $25 per night plus an initial $15 entry to the park with unlimited egress and ingress during the Rendezvous.  There is a dump station at the Pilot Station just down the road so pump before you come!  There will be a commemorative VAC Rendezvous sticker and window placard.
The Early Day Gas Engine & Tractor Association Swap Meet is held on the grounds at the same time.  So, with 14 museums on the property, a working trolley, miniature trains and more, it is an action-packed location.  Entry to the museums is included in your one-time $15 fee.
The VAC will be celebrating its 25th Anniversary and the Summer Solstice, expect to have fun.  This is the endpoint for the VAC Caravan and the staging point for the police escorted VAC parade into the WBCCI International Rally 8 miles away on June 23.  The Bend Classic will end in time for attendees to make it the 115 miles to the grounds.
Expect to see the earliest (masonite sided!) Airstream, the 1936 Silver Cloud.  It is the oldest factory produced Airstream and was on the road and camping before Doc Holman's 1935 Torpedo (built from plans).  Expect to see the oldest known Curtis Wright and one or more "Around the World Caravan" trailers.  A gathering of 50-year-old 1968 Airstreams is being planned, so bring yours and attend whether or not you are able to attend the WBCCI International Rally!
Contact VAC 1VP Dave Morrison at 1vp@vintageairstreamclub.com for further details.
---
Vintage Airstream Club Parade to International
Time: 10-10:30am – Parade staging area – Chemeketa Community College. Address: 

4000 Lancaster Dr NE, Salem, OR 97305
11:00am – Depart staging area
Parade route is 2.5 miles to Fairgrounds entrance.  No police escort will be provided.  We will try our best to keep parade together as we travel to the fairgrounds.  Route instructions will be provided morning of.  Plan on Lancaster Dr to Silverton Rd to Lana (entrance).
---
WBCCI Rallies with Vintage Parking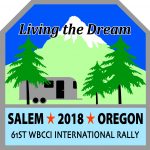 June 23 – 30, 2018: 61st WBCCI International Convention/Rally, Salem, OR. For more information or to register visit wbcci.org
---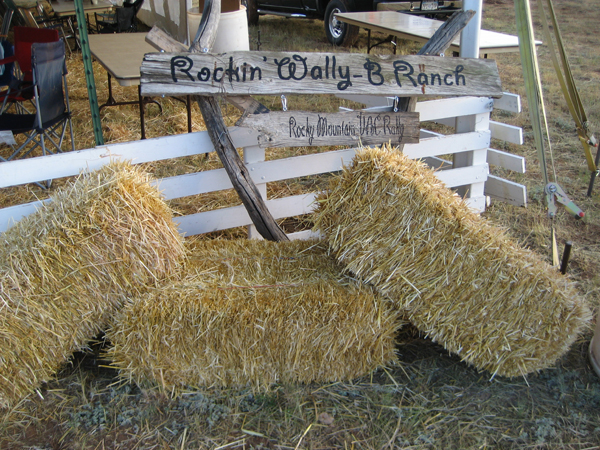 August 2 – 6, 2018: Rocky Mountain Vintage Airstream Club Million Dollar Rally 

So, trade in your blue beret for your favorite cowboy hat and bring your
adventerous Wally spirit to the Rocky Mountains.
For Rally and registration information, click HERE
---
August 16 – 19, 2018: VAC Region 10 Rally
This year's annual VAC Region 10 rally will be held at Fort Stevens State Park on the Oregon Coast.  We have 24 sites reserved in two loops at the park.  All sites have water and electricity and dump stations are available at the park.
Fort Stevens State Park is located near Astoria, Oregon.  It lies next to the site of a military installation used to guard the mouth of the Columbia River from the Civil War through World War II.  There are gun batteries to explore, a military museum, and a shipwreck, not to mention the beach and miles of bike trails.  There is also an observation platform where you can watch big ships crossing the famous Columbia River Bar.  Wildlife viewing platforms provide excellent places for bird-watching.  Coffenbury Lake is a scenic lake in the park to kayak in, and there are local places to rent kayaks from if needed.
Nearby you can visit Fort Clatsop, where Lewis and Clark's Corps of Discovery spent the very wet winter of 1805-06.  The towns of Astoria and Seaside are nearby to explore, too.
Cost for 3 nights is $110.  Breakfasts and lunches will be on your own, Friday and Saturday dinners will be potluck-style.  Thursday will be a "meet and greet" happy hour.  Dinner is on your own, if you're still hungry!
Rally hosts are Rob and Diane Nicol.  For registration information/questions contact them at robnicol@comcast.net, or call 541-990-4441. For registration form, click [HERE]
---
August 24 – 26, 2018: North-Eastern Vintage Trailer Rally
A joint rally of Region 1, Cape Cod Unit and Region 2, Finger Lakes Unit and in conjunction with the North Eastern Vintage Airstream Club. Hosted by RJ Dominic and Ed Valentin (#22531), edwardva@outlook.com
Ed and I invite you to the first Vintage Airstream Club Rally in the north eastern United States. It will be held at the Ulster County Fairgrounds, 249 Libertyville Road, Paltz, NY 12561 just outside New Paltz, NY 12561. The fairgrounds are located in the historic Hudson Valley. Short distances from West Point Military Academy, The Roosevelt Estate and many mansions along the Hudson.  All open for tours. The well know 'Walkway over the Hudson' is a short drive away with its many miles of 'rail trails' to walk/run and ride bike on. The Hudson Valley is well known for its vineyards and microbrewery's. Many are also within short distance. For program information and registration, click [HERE].
Preliminary Program:
Wednesday August 22nd – early arrivals, happy hour
Thursday August 23rd – early arrivals, happy hour, pot-luck dinner
Friday August 24th
8am – 9am – Breakfast – sponsored by 9:30am – 11:30 am – TBD.
12pm – Lunch on your own
5pm – Heavy Happy Hour
Saturday August 25th
8am – 9am – Pot Luck Breakfast
12pm – 3pm – Open House, Flea Market and Best of Rally Competition
4pm – Happy Hour
6pm – Dinner – sponsored by campground and entertainment
Sunday August 26th
8am – continental breakfast, departure
---
September 20 – 23, 2018: VAC Midwest Fall Rally 
Beatrice, NE
Details to follow
Ryan & Amy Knowles/Hosts (#2591)
golopogos@gmail.com 402-223-3477