Join/Renew with WBCCI renewal
If you are joining or renewing during the normal WBCCI renewal period coinciding with your anniversary date, please log onto https://airstreamclub.org and a form window will automatically appear which will guide you through the renewal process.  Be sure to add "Vintage Airstream Club" in the Intra-Club portion of the form.
Join/Renew VAC membership only
If you wish to join or renew your VAC membership at any time outside your anniversary date, follow the steps outlined below.
Log into the WBCCI website https://airstreamclub.org using your email address and password. If you do not know either of those, please call WBCCI HQ at 937-596-5211 during business hours  Monday to Thursday 8:00 am to 4:30 p m EST, Friday 8:00 am to 4:00 pm EST, for assistance.

After logging in, you will be at your membership dashboard. In the upper right of the screen you will see your name in a pull-down menu box. Click on the downward pointing arrow to see the menu options.

Click on Join an Intra-Club.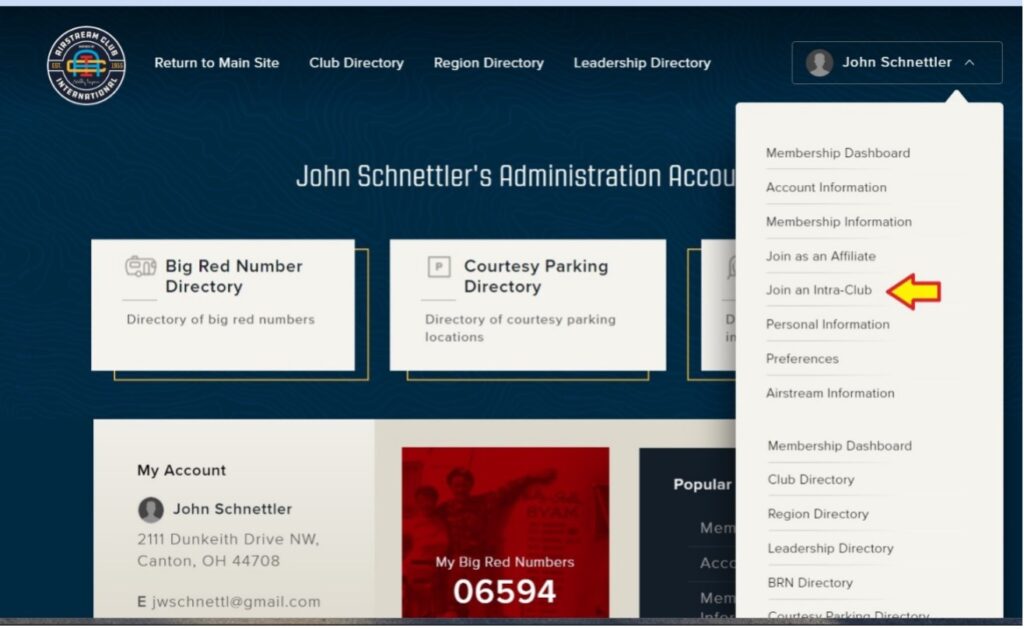 4.  Fill out the Join an Intra-Club form, be sure to choose Vintage Airstream Club, and click Next. The form should guide you through the rest of the process.