---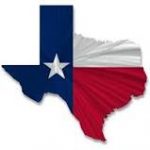 May 2-5, 2019: 11th Texas Vintage Airstream Round-Up Special Event Rally
Texas Highland Lakes Unit (THLU) of WBCCI is sponsoring its 11th Texas Vintage Airstream Round-Up Special Event Rally, May 2 – May 5, 2019 at Mineola Civic Center & RV Park in Mineola, TX which is some 80 miles east of Dallas, north of I-20. Full hook-ups are provided.
Membership in WBCCI or VAC is NOTrequired—the only requirement is that attendees have some type of an Airstream product—-any year of manufacture. Every year, we have attendees join WBCCI & VAC for the first time. At our 10th Anniversary Rally in April 2017, we had 1948 model Airstreams to 2017 models of which nearly 60% were Vintage.
This Rally Includes: seminars on vintage topics as well as topics of interest to others, panel discussions, camp fires, door prizes, entertainment, four (4) catered meals, one (1) potluck dinner, and an open house for Airstreams.
The Rally Cost is: $100 ($80 for 4 catered meals + $20 for rally activities) Per Person with children under age 15 free; and the Parking Costis $27 per night (most of the activities are held on Thursday, Friday, & Saturday.) Pre-shrunk, adult sized Rally Logo Shirts will be available for order at a cost of $16 for sizes S-XL and $18 for sizes 2XL & 3XL.
Some of the topics in the past have dealt with:solar panels & installation, frame off restoration, axles & brakes, electrical & batteries, plumbing including holding tanks, cleaning holding tanks, flooring, refrigerator repair and alternatives, air conditioner & heating alternatives, LED lighting, riveting, polishing, custom cabinets, window replacement, general and basic maintenance, insurance, portable generators/invertors, container gardening, cooking in an Airstream, using a convection oven, Dutch-oven cooking, places to camp & visit, caravanning, dry camping, towing for women, Yoga for all, and full-timing in an Airstream.
Help us round-up all Airstreams. Head down to Texas for: good food, good times, good friendships, and good Texas hospitality for our 11th Texas Vintage Airstream Round-Up Special Event Rally, Texas style!
Rally Registration Form and information may be found at the THLU website: www.thlu.org, or click [here] or contact Jean Beebe at: tj-beebe@hotmail.com or 512/745-4201 (Cell).
Direct any specific questions about the Rally to: Grady Ferry at: pizzacat@sbcglobal.net or (713) 825-9586 (Cell).
Registration Form & Fees are Due PRIOR to April 18, 2019.
---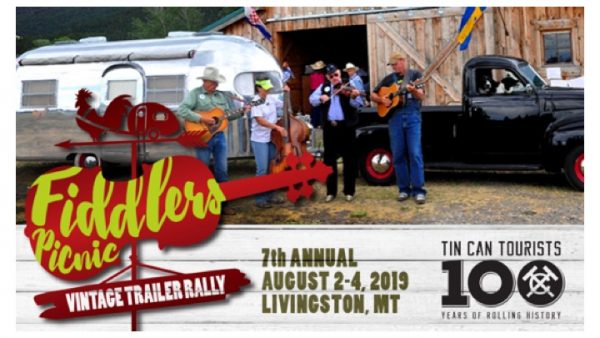 August 2-4, 2019: Annual Fiddlers Picnic Vintage Trailer Rally
Special invite!
Paul and Nanci Drag and Jane and Dal Smilie invite all VAC Caravan, VAC 25th Anniversary celebrants, and all VAC and WBCCI members and friends to an anniversary celebration of those events. The celebration goes on!
Participants celebrated VACs 25th with lots of campfire music. We would like to do it again. So if you have an instrument or just want to tap your toes, join us at the Fiddlers Picnic. It's a VAC buddy Rally and welcomes all. You probably need to visit Yellowstone National Park anyway and this is at its gateway.
This will be the 7th Annual Fiddlers Picnic Vintage Trailer Rally on the grounds of the Old Mercier Ranch, just south of Livingston MT from August 2-4, 2019.  The rally is in the midst of the 45th annual Fiddlers Picnic.  A joyous gathering of 500 pickers and their friends on the banks of the Yellowstone River.  It celebrates the 109th anniversary of the Tin Can Tourists.
The Picnic supplies the meat portion of a potluck lunch, as well as a pancake breakfast. It's dry camping but close to amenities.  Participants will receive an event decal. The cost is $25 per trailer which goes to support the Picnic.
Contact dalsmilie@aol.com with questions
---
AUGUST 16 – 31, 2019: MIDWEST VINTAGE AIRSTREAM ROLLING RALLY
Hosted by Joyce and Lee Cantrell
We're planning a rolling rally in August 2019 to escape the summer heat in Region 8.   You can join us anywhere along the rally stopping points and leave as your schedule dictates.   Since we'll be staying mostly at RV Parks, the cost for camping averages around $40 a night, or more depending on site selection. We'll try to negotiate better prices but we can't do that until we know how many plan to join us.
Here   is   what   we   have   planned:
August   16 & 17, Friday/Saturday – Meet up at Beed's Lake State Park just of Interstate 35, north of DesMoines, Iowa.
August 18, Sunday – leave Beed's Lake and arrive at Treasure Island RV Park at Red Wing, MN. The Red Wing Stoneware and Pottery Factory is open on Sundays from 9 – 4, and tours are also available.
August 19, Monday – Leave Treasure Island RV Park. Along the way stop off at Tobies Restaurant and Bakery in Hinckley, MN for brunch.   Arrive at Buffalo Valley RV Park just outside of Duluth, MN.   We'll be here for 4 nights so that you can explore Duluth and the surrounding area.
August 23, Friday – Leave Buffalo RV Park and arrive at Lamb's Resort in Schroeder, MN.   We'll stay here 3 nights.
August 26, Monday – Leave Lamb's Resort and arrive at the Grand Marais Campground and Marina.  We'll stay here for 4 nights.
August 31, Saturday – Leave Rally and head for home or do more exploring.   (We'll be heading for Fall Lake near Ely then to McKinley Park Campground on beautiful Lake Vermillion.  If you are interested in joining us there, we can give you the reservation information for Fall Lake and McKinley Park Campground.
Currently filled, if you want to be added to a waiting list contact us.
Joyce and Lee Cantrell:  ljcan@twinvalley.net
---
WBCCI International Rally
July 20-27, 2019: 62nd Wally Byam Airstream Club International Rally, 
Doswell, VA. To register click [here].