2023 Events
30th VAC Rendezvous 2023
WHAT:  2 Day Rendezvous for VAC members prior to the WBCCI International Rally in Rock Springs, WY June 2023
WHEN:  Thursday June 22 and Friday June 23, ending on Saturday June 24
WHERE:  Sweetwater Events Complex, 3320 Yellowstone Rd., Rock Springs, WY 82901
More Details HERE
---
The 2023 66th International Rally, will be in Rock Springs, WY June 24-30, 2023
For more information on the 2023 Rally please see the official Rally Page
For more information on the VAC events at the 2023 Rally please see the VAC Int Rally Page
---
VACmidwest Spring Rally 2023 Vintage Airstream Club Region 8
Thursday May 11th – Sunday morning May 14, 2023
Watkins Mill State Park
Hosted by Scott & Jodi Jensen and Scott & Kathy Allen
Reserve your site NOW
We will be trying for sites 40-47 & 60-84
Please text/contact Jodi 515-321-0703 and let her know your site number!
Book a campsite – open NOW December 22nd
Reservations are open now: https://mostateparks.com/park/watkins-mill-state-park
Campground Map: https://mostateparks.com/sites/mostateparks/files/Watkins_CG.pdf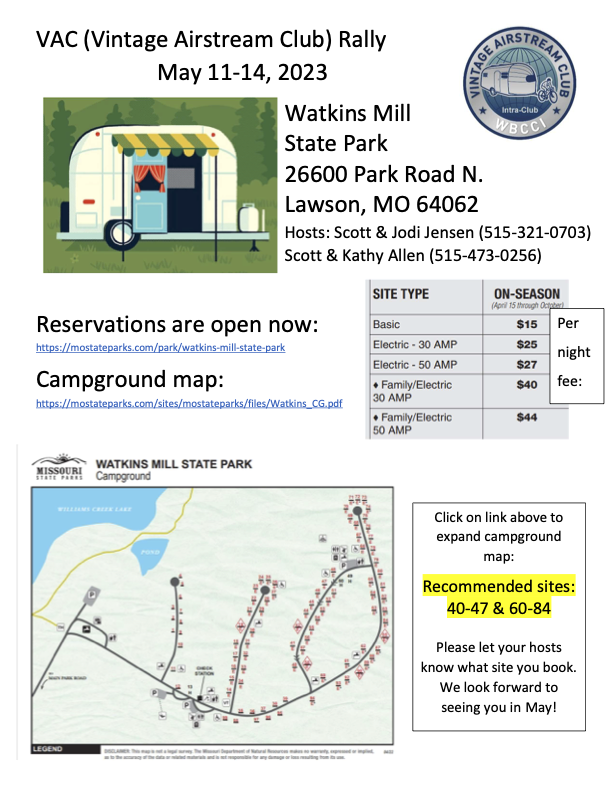 ---
2022 Events
---
Airstreams at Frank Lloyd Wright's Price Tower
Bartlesville, OK
September 29 – October 2, 2022
Priority Registration for Region 9 is now open for "the next great rally," Airstreams at the Price. Brought to you by Region 9 (the ones who brought to you the now-famous "Streamin on the Strand" Mardi Gras rally), and the Vintage Airstream Club.  Spaces are limited, so take advantage of this one-week priority registration period to take part in this historic rally.  Visit website to register.
---
Region 12 VAC Rally
October 13th – 16th, 2022
Region 12 is having a VAC rally! Join us at Potrero County Park Campground located 45 miles east of San Diego along the US-Mexico border and near the town of Tecate, Mexico.

The weekend will include:
– Park ranger talk on the history of the Potrero area
– Presentation by Steve Doster on traveling through Baja, Mexico
– Day trip to Tecate, Mexico. Bring your passports!

Potrero Campground is the perfect spot to also visit the Valle de Guadalupe wine region. If wine tasting is your thing, consider arriving early or stay longer to visit the nearby wineries in Mexico.
Campsites have large spacious campsites with water and 20/30/50-amp electric. There are no sewer hookups at the campsites, but there is a dump station at the campground. Pets are welcome! For more information on Potrero Campground, visit this website:
https://www.sdparks.org/content/sdparks/en/park-pages/Potrero.html

Make camping reservations directly at https://reservations.sdparks.org/reservation/camping/
1) Select Potrero in the box on the left-hand side.
2) Select your Arrive Date of 10/13/2022 for 3 nights.
3) Select a site. Try to get a site between #1 through #21. Rally organizer is in Site #12. Try to reserve sites starting from Site #12 so we are all together.

Once you have reserved your site, register for the rally below:
There is no cost for this rally other than the cost of site reservation. We will coordinate a Saturday night potluck. Food assignments or suggestions can be made as we get closer to the Rally. No food or drink will be provided during the rally.
If you have any questions, contact Steve Doster at steve.doster@gmail.com
---
Region 6 VAC Gathering
in partnership with Argosy Adventures
at Brickyard Plantation Golf Course & RV Park
KOA Campground 1619 US Hwy 280 East in Americus, GA 

Wednesday November 9th – Sunday November 13th, 2022
All vintage Airstreams and Argosys are welcomed to attend. Call the campground directly to make reservations [and tell them you are with the vintage group -]
Golf and Camping! 18 Hole Golf Course plays as the Waters and Mounds, 18 holes of Disc Golf plays as Discin' on the Ditches and 9 holes of Foot Golf. Very family and walker friendly. Brickyard Plantation – the home of Americus KOA for RV and Tent camping. You'll quickly discover the golfing pleasures of this campground that comes with its own Sottish links-style regulation course. Play a round on the walk-friendly course or try a variation of the traditional game with foot golf or disc golf. It's all free for registered guests! Enjoy the mild winter weather at this KOA's peaceful country setting, along with its big, wide Pull-Thru RV Sites.
Not a golfer? Nearby attractions include the Andersonville National Historic Site, the Historic Windsor Hotel, and President Jimmy Carter's boyhood home at the Jimmy Carter National Historic Site as well as Habitat for Humanity International's Global Village & Discovery Center. Explore Providence Canyon State Outdoor Recreation Area (Georgia's Little Grand Canyon) on miles of trails with striking views of gullies up to 150 feet deep.
---
Completed 2022 Events
---
VAC Midwest Spring Rally
Thursday June 16-19, 2022
Hosted by Scott & Kathy Allen and Scott & Jodi Jensen
Lake Keomah State Park
Photos – https://www.iowadnr.gov/Places-to-Go/State-Parks/Iowa-State-Parks/Lake-Keomah-State-Park
The window for booking a campsite opens March 16th
Click to download the event flyer
We will be trying for sites 1 thru 13 area, and more as we fill up the first sites
To book your campsite: https://www.iowadnr.gov/Places-to-Go/State-Parks/Iowa-State-Parks/Lake-Keomah-State-Park
Please contact Kathy and let her know your site number!
  For additional info or questions contact KathyAllen3534@gmail.com or Kathy 515-473-2056
Booking a campsite – opens March 16th
---
Region 11 Fiesta Time in Arizona Rally
March 9-13, 2022
Vintage Airstream Club Members:
Ken Johansen, President of the Region 11 Airstream Club (ACI), is inviting Vintage Airstream Club (VAC) members from across the USA and Canada to its Fiesta Time in Arizona Rally. The dates are March 9th to March 13th, 2022. The rally will be held at the Pinal County Fairgrounds and Event Center near Casa Grande, AZ.

This Fiesta will include a mariachi band, a rock and roll band, and a classically trained musician who is also a storyteller for evening entertainment. Breakfast will available each morning. Dinner menus are still being developed, but tacos will be available while the mariachi band is performing. Daytime activities will include presentations on tire and battery choices, a demonstration on backing safely and changing a tire correctly, propane and hitch safety, and a field trip to Airstream of Chandler, now the largest Airstream dealer in the world. Have you read a book about the Casa Grande area? Bring it to the rally book discussion session. Do you want to host a caravan? You can find out how by going to that breakout session.

Luke Bernander and Rodney Sly will be making presentations that relate to trailer safety. Luke will also bring his dents-out equipment for those who want their dents to disappear.

This rally will provide opportunities for entertainment and education while enjoying special food, and most important, a place to meet new friends and visit with longtime friends.

While here in central Arizona, consider visiting one our nearby Sky Islands, Mount Lemon. Sky Islands are a unique geological structure that are found in very few places in the world. Climb up a lava flow, Picacho Peak, also a unique geologic structure. Stop at the Benson Visitor Center just off I-10 east of Tucson and ask for information on things to see and do in Cochise County, a county larger than Rhode Island and Connecticut combined.

Visiting Arizona in March 2022 is a wonderful opportunity to go to a well-planned Airstream rally that is not only welcoming vintage Airstreams but featuring vintage with special parking. It is also the first annual Southwest Vintage Airstream Rally, and it is a wonderful time of year to enjoy Arizona.

Lisa Sly, Vintage Airstream Club president, will be present. She is always interested in learning about how each member feels about VAC and hearing suggestions for improvement.

To register for the rally, go to the Region 11 website (link below). The maximum trailer capacity for this event is 125. Be in one those trailers!
https://airstreamclub.org/2022-region-11-rally-fiesta-time
Bob Doster
Region 11 Rep VAC
---
Region 6 VAC Gathering in partnership with Argosy Adventures
Natchez State Park
Thursday, April 28 – Sunday, May 1, 2022

Campground, located off Highway 61 near Stanton, Mississippi [From the park: GPS Info. (Latitude, Longitude): 31.60583, -91.1975 — 31°36'21″N, 91°11'51″W — 10 Miles north of Natchez off US 61 at Stanton, Mississippi. DO NOT USE MAPQUEST TO ACCESS DIRECTIONS!!]
All vintage airstreams are welcomed to attend. Make your reservations for campground B.
Natchez State Park is located just 10 miles north historic Natchez, the oldest settlement on the Mississippi River. Prior to the Civil War, over half of the millionaires in the entire United States lived in Natchez, constructing elegant mansions unrivaled in size and elegance by any in the nation. Most of these splendid homes were spared during the Civil War, and many are now open for tours. According to the park, Natchez State Park is also famous in its own right. The largest bass in Mississippi history, a largemouth weighing 18.15 pounds, was caught in Natchez lake in 1992.
Event Contact:
Judy Hardwick, VAC Region 6 Representative
JudyinHuntsvilleAL@gmail.com

256-348-3316
---
North East VAC Rally
May 19-22, 2022

We are pleased to announce the North East VAC Rally at the Harrington, Delaware fairgrounds May 19-22, 2022 in conjunction with Region 2.
There will be VAC east coast Rendezvous (May 17/ 18, 2022) prior to the VAC rally. More details to follow.
Caravan to the State Fairgrounds in Harrington, DE. It's about time! The last Airstream Club Region 2 Rally was held in 2019!
Explore the local

area and DE beaches.

Tax-free shopping!

Casino on site

Catered Dinner

Food Truck

Breakfasts

Seminars

Two nights of GREAT Entertainment and MORE!
Now is the time to mark your calendars, make your reservations, get your Passports in order if you're traveling from Canada and get ready to head to Harrington, DE in May. This is a Joint Rally with our Region 2 local clubs and the Vintage Airstream Club! The beautiful Fairgrounds features large spacious campsites with water and 30-amp hookup, with some 50-amp available. We have plenty of sites reserved for our Airstreams! Don't wait. REGISTRATION IS NOW OPEN! Let's make this the Biggest and Best Region 2 Rally in years!

To Register go to: https://airstreamclub.org/region2/2022-region-2-rally
Make camping reservations directly at https://delawarestatefair.com/camping
If you have any questions contact Ed Valentin at edwardva@outlook.com
---
Region 11 VAC Returns to Dolores, Colorado
June 2-5, 2022
The Region11 VAC will be joining the Arizona Airstream Club for a joint Rally in Dolores, Colorado. Located in Southwest Colorado, Dolores River Campgrounds is a central location for Region 11 members and is located approximately 8 miles northwest of Cortez on State Route 145.
Most campsites have full hookups and are conveniently located around the dinning and kitchen area.
The Dolores River runs by the edge of the campground and the Dolores RiverFest is tentatively scheduled to be held during our Rally.
The tentative schedule has VAC presentations on Friday. The presentation theme will continue from
last year's rally Repair, Restore or Rebuild. Bill Fisher will present Packing Wheel Bearings. Pat McDowell will discuss Evaluation of the Electrical System in a vintage trailer. Rodney Sly will present Frames, Axles and Wheels. Amy Van Artsdalen will demonstrate Cooking with an Instant Pot in Your Trailer.
There will be a short VAC meeting on Saturday followed by open doors and a flea market.
The hosts for this Rally are Mike and Gail McBurney from the Arizona Airstream Club and Kandi Smith from the VAC. Other events will include Opening Evening, Meet and Greets and Saturday Night's Way Out West Banquet.
Call the Dolores River Campgrounds to reserve a site and then go to the Arizona Airstream Club's Website to register for the Rally.
Because there is so much to see and do in the area many campers will want to come early to the rally and/or stay late!
Update of the Way-Out West Dolores River Vintage Airstream Rally
The Campground is expanding our space! Contact the Dolores River Campgrounds (970-821-9188) and reserve a campsite, then go to the Arizona Airstream Club Website register and register for the Rally.
Vintage presentations will follow last year's Theme of Restore, Repair, or Rebuild. Rodney Sly will continue his presentation concerning frame and axle evaluation, Bill Fisher will be presenting on wheel bearing evaluation and maintaince. Pat McDowell and Bill Fisher will be doing a presentation on riveting and replacing pop, Olympic, and buck rivets. Ken Johansen will continue his presentation on polishing. Amy VanArtsdalen will be presenting a demonstration of use of an Instapot in your Airstream. Dolores River Days will also be in full swing in nearby Dolores. Many campers are coming early and or staying after the Rally so that area attractions such as Mesa Verde, Canyon of the Ancients, and Dolores River can be visited. The Saturday evening Way Out West Banquet will provide an entertaining evening of fun and food. Wear your Best Western Dress as we enjoy a banquet of locally sourced and locally prepared western gourmet food.
---
July 6-10, 2022
Rockport, Washington
The 2022 Region 10 Vintage Airstream Club rally will be held at Howard Miller Steelhead Park near Rockport, WA, from July 6th – July 10th.  We have 30 sites reserved at this beautiful location along the scenic Skagit River.  Activities include fishing, river rafting, biking, hiking, history, wildlife viewing and more.  
The western entrance to North Cascades National Park is just a short drive from our campground.  There are Ranger Programs available during the summer, as well as hiking, wildlife viewing and boating opportunities.  We are looking forward to exploring this national park for the first time!
Other places to visit and explore include the towns of Winthrop and Twisp, the mountain loop drive that takes you on a scenic drive to Darrington, Arlington, and other towns along the way.  Seattle City Light Generating stations (dams) are nearby to view.
Cost for this rally is $155.  If you need to cancel you must let us know by June 23rd to receive a full refund (less the $5 reservation fee, which is non-refundable).  If you cancel by Sunday, July 3rd, you will lose your first nights' cost, plus an additional $10 cancellation fee (your refund would be $105.00).
Hosts for this rally are Rob and Diane Nicol from Philomath, Oregon.
Please email or call us with any questions.  We're looking forward to seeing all of you!
Rob and Diane
541-990-4441
---
Annual VAC Rendezvous
July 20-21, 2022
Sandwich, New Hampshire
Details on the Rendezvous can be found HERE
---
CANCELLED
VAC BLUE SKIES AND RANGES RALLY
September 22-26, 2022
Northeastern New Mexico, USA
NRA Whittington Center
34025 Highway 64 West
Raton, NM 87740
10 miles S/SW Hwy 64 West
1-800-494-4853 or 575-445-3615
The Vintage Airstream Club has reserved 40 30-amp sites in the East RV Campground and Bathhouse. Cost is $40 per night. You can stay longer if you'd like. You must call in to reserve your site: 575-445-3615.
Please be advised this is also a shooting range, however, Marijane and I stayed there more than once and could hardly hear a thing. If you'd like to shoot at any of the ranges, rifle or handgun, there is a $30 annual range cost to the NRA Whittington Center.

PS: Sorry no fire pit, fire restrictions in Colfax County, gas fire dancers allowed.
AGENDA
Thursday 9/22, arrival day: 4:30 happy hour at Marijane and Sandylee site, dinner on your own.
Friday 9/23: Coffee and breakfast snacks at Pasquale site. Site seeing on your own or visit the ranges. Happy hour at dining hall with heavy hors d'oeuvres and snacks. Bring your own drinks.
Saturday 9/24: Coffee and breakfast snacks at Pasquale site. Potluck at dining hall.
Sunday 9/25: Coffee and breakfast snacks at Pasquale site. Potluck re-do and more snacks.
Monday 9/26: Coffee and breakfast snacks at Pasquale site. End of rally, c u down the road.

Things to see and do:
– Frank Brownell Museum of the Southwest, on site at Whittington Visitor Center.
– Capulin National Monument with sweeping views of Sangre de Cristo Mountains. Less than an hour drive from Whittington.
– St. James Hotel in nearby Cimarron, NM. See the true old west, bullet holes in the ceiling and walls. Also see The Aztec Grist Mill built in 1862.
– Philmont Scout Ranch, sprawling 137,500 acres and National Museum. Kit Carson Museum at Rayado, founded by Lucien Maxwell in 1848.
– Seton Memorial Library at Philmont.
– Folsom Museum, Folsom, NM. Learn about the old mining camp once called "Rag City" for all the tents.
– Van Houten Mine and Ghost Town, 1.5 miles from East RV Campground.
– Vietnam Veteran Memorial at Angle Fire, NM.
– Dawson Cemetery, Dawson, NM, abandoned mining town and ghost town.
– Self-guided historic walking tour and museum in Raton, NM.
Rally fee: $20 per Airstream.
You must call in to reserve your site: 575-445-3615
Sandylee and Marijane Pasquale, Hosts
505-280-3263
BRN #7769
Pasquale@swcp.com
---
2021 Completed Events
---
Vintage Airstream Club
GEORGIA "mini" RALLY
December 3rd & 4th, 2021
All VAC members and WBCCI members, Including friends with other brands (SOB's)
are invited to this fun filled GA mini rally.
Schedule of Events:
Fri: 4:00 Check-in & Registration
      6:00 Welcome & Happy Hour around the Community Fire Pit including "Wings Things" – BYOB
Sat: 9:00 Pancake & Sausage Breakfast
     10:00 Disc Golf Or Ball Golf OR
     10:00 Sight Seeing in Sumter County & Americus
       6:00 Baked Potato Bar – BYOB
Sun: 11:00 Depart
No Rally Fee – All activities are complimentary. (Rented golf carts are extra.)
Call the campground to make your reservation and make mention you are with VAC.
FHU Pull Thru Sites are $35/night. Call to make a reservation.
Americus KOA Journey at Brickyard Golf Club
Americus, GA
800-562-5805
---
VACmidwest – VAC Region 8 Spring Rally – Dates: May 6-9, 2021
Vintage Airstream Club of the Wally Byam Airstream Club
Hosted by Tom and Shirley Herron
Lacey Keosauqua State Park
Photos – https://www.iowadnr.gov/Places-to-Go/State-Parks/Iowa-State-Parks/Lacey-Keosauqua-State-Park
The window for booking a campsite opens Feb 5th
We will be trying for sites 5 thru 29 area. https://iowastateparks.reserveamerica.com/camping/laceykeosauqua-state-park/r/campgroundDetails.do?contractCode=IA&parkId=610103
This is the current link to book a campsite.
In the area is the Historic Villages of Van Buren   https://villagesofvanburen.com/
Including the famous Dutchman's Store in Cantril, IA    https://www.dutchmansstore.com/

Or drive to Rutledge Mo for an outside flea market   https://www.facebook.com/rutledgefleamarket/
The park itself has hiking, the lake allows for paddle or electric motor boats
Native American burial mounds can me see from the Woodland Culture Overlook (over the Des Moines River)
Please contact Shirley and let her know your site number!
For additional info or questions contact Herrons13007@gmail.com or Tom 515-988-4950.
Booking a campsite – opens Feb 5th
We will follow current recommendations for social distancing and masks
Don't give up on the Tulip Rally!!!
Tom & Shirley will VACmidwest Tulip Rally in the future, when events reopen (some closures for 2021), campsite improvement-construction is complete, and we can truly enjoy this special event!
Lacey-Keosauqua State Park, DNR Map Campground Lacey-Keosauqua State Park, DNR Map

---
Arizona Dolores River Campground Rally, VAC Region 11 Rally
June 3-6, 2021 Colorado
The Arizona Airstream Club is having a Rally at the Deloris River Campground on June 3rd thru June 6th. Vintage campers are invited to attend this Rally in south west Colorado. This then will also be a Region 11 VAC Rally. This Rally will fill quickly. Call Laney at Deloris River Campground at 970 882 7761 to reserve a campsite and then go to the Arizona Airstream Club website and register for the Rally. There will be more details about VAC activities but get a site and come enjoy one of the special places in Region 11.
To register for the Rally: https://airstreamclub.org/arizona-dolores-river-campground-rally-2021
---
MidWest Vintage Airstream Club Rolling Rally
August 20 – September 7, 2021
Iowa and Minnesota

This is an incredible opportunity to join with other Airstreamers!
  Fun!  Fun!  Fun!
  Lots of places to explore
  Organized for individuals/families to explore the North Shore of Lake Superior
  Opportunities for socially distant gathering.
We're planning a rolling rally beginning August 20, 2021 to escape the summer heat in Region 8.  We'll begin the rally at the Pammel State Campground near Winterset, Iowa, and end at Fall Lake Campground located in the Lake Superior National Forest near Ely, Minnesota.  You can join us anywhere along the rally stopping points and leave the really as your schedule dictates.  Participants will make their own reservations and should do so as soon as the reservation window opens for the campgrounds we'll be using.  Please let us know no later then January 31, 2021, if your interest in participation in the rolling rally.  Contact Lee and Joyce Cantrell at ljcan@twinvalley.net.  You will them be provided with the campground information and itinerary so you can make your reservations once the reservation windows open.  It is important to make reservations sooner rather than later since 2021 is predicted to be a busy camping season and camping sites go quickly in Minnesota and Iowa.  We are limiting the number of units attending to fifteen and to current VAC members.

You MUST contact Lee to reserve one of the spots on this rolling rally!
Some campsites must be reserved NOW.  Please contact Lee NOW.
---
2020 Events
---
VACmidwest – VAC Region 8 Spring Rally – Dates: May 7-10, 2020
Vintage Airstream Club of the Wally Byam Airstream Club
VACmidwest Schedule Changes
Out of concern for the health of you, our friends and the community at large, we have cancelled the VACmidwest Region 8 Spring Rally 2020.
Reports are that the campground currently is still open, but that could change.  Hosts Tom & Shirley Herron worked with the camp ranger and park board for approval of a refund of your camping fees (minus the $4 on-line registration charge).
Here's the direct quote from the ranger "Because of the virus concerns, the Marion County Conservation Board has allowed for full refunds of all camping fees, this does not include the $4.00 reservation fee that the website charges when making the reservation.
So the options to cancel a reservation this spring would be to reschedule for a later date or request a refund, the refund will come in the form of a check mailed from the Marion County Auditors office."
Contact Ranger Mike –   RobertsCreek@iowatelecom.net to cancel for campsite.
Please provide arrival date and an address to mail your refund.
---

Dates: May 7-10, 2020
Location: Robert's Creek EAST Campground,1631 Fillmore, Otley, IA
DO NOT turn into the West Campground
6 miles west of the city of Pella on County Highway G28

In addition to the festival we will be near Knoxville Sprint Car Track and Museum.
Also nearby is Red Rock Reservoir and Damn and Visitor Center.
And the Cordova Tower, where 169 steps takes you up 106 feet to be able to view out 35 miles.

Pella Tulip Time
Hosts: Tom & Shirley Herron
Herrons13007@gmail.com
Phone: 515-988-4950 // 515-556-9339

Email Kathy Allen if you'd like to volunteer to host any VACmidwest event
Contact: vacregion8@VintageAirstreamClub.com
There have been some changes since last at Roberts Creek East. Last year they completed a new loop that is A thru ZZ full hookup electric, water and sewer. all gravel pads, back in, $25 a night bookable now.

Attendees responsible for own reservations.

Campground Map Reservation Website:
https://www.mycountyparks.com/Facility/Campsite/Default.aspx?Keyword=Roberts%20Creek%20East,%20Campsite%20#A
---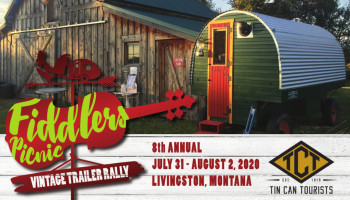 8th Annual Fiddlers Picnic Vintage Trailer Rally
July 31 – August 2, 2020
Join us (and 500 pickers) July 31 – August 2, 2020 for the eighth annual Fiddlers Picnic Vintage Trailer Rally.  A Tin CanTourist rally open to all . . .
It's on the grounds of the Old Mercier Ranch on Stong Lane on the south side of Livingston, Montana. $25 contribution, with all proceeds going to the Picnic. Event decal, pancake breakfast and the meat portion of a potluck. Dry camping though! http://www.vintagetrailercamp.com/event/fiddlers-picnic-vintage-trailer-rally-2020/ Contact: dalsmilie@aol.com