2021 Events
---
VACmidwest – VAC Region 8 Spring Rally – Dates: May 6-9, 2021
Vintage Airstream Club of the Wally Byam Airstream Club
Hosted by Tom and Shirley Herron
Lacey Keosauqua State Park
Photos – https://www.iowadnr.gov/Places-to-Go/State-Parks/Iowa-State-Parks/Lacey-Keosauqua-State-Park
The window for booking a campsite opens Feb 5th
We will be trying for sites 5 thru 29 area. https://iowastateparks.reserveamerica.com/camping/laceykeosauqua-state-park/r/campgroundDetails.do?contractCode=IA&parkId=610103
This is the current link to book a campsite.
In the area is the Historic Villages of Van Buren   https://villagesofvanburen.com/
Including the famous Dutchman's Store in Cantril, IA    https://www.dutchmansstore.com/

Or drive to Rutledge Mo for an outside flea market   https://www.facebook.com/rutledgefleamarket/
The park itself has hiking, the lake allows for paddle or electric motor boats
Native American burial mounds can me see from the Woodland Culture Overlook (over the Des Moines River)
Please contact Shirley and let her know your site number!
For additional info or questions contact Herrons13007@gmail.com or Tom 515-988-4950.
Booking a campsite – opens Feb 5th
We will follow current recommendations for social distancing and masks
Don't give up on the Tulip Rally!!!
Tom & Shirley will VACmidwest Tulip Rally in the future, when events reopen (some closures for 2021), campsite improvement-construction is complete, and we can truly enjoy this special event!
Lacey-Keosauqua State Park, DNR Map Campground Lacey-Keosauqua State Park, DNR Map

---
Airzona Dolores River Campground Rally, VAC Region 11 Rally
June 3-6, 2021 Colorado
The Arizona Airstream Club is having a Rally at the Deloris River Campground on June 3rd thru June 6th. Vintage campers are invited to attend this Rally in south west Colorado. This then will also be a Region 11 VAC Rally. This Rally will fill quickly. Call Laney at Deloris River Campground at 970 882 7761 to reserve a campsite and then go to the Arizona Airstream Club website and register for the Rally. There will be more details about VAC activities but get a site and come enjoy one of the special places in Region 11.
To register for the Rally: https://airstreamclub.org/arizona-dolores-river-campground-rally-2021
---
MidWest Vintage Airstream Club Rolling Rally
August 20 – September 7, 2021
Iowa and Minnesota

This is an incredible opportunity to join with other Airstreamers!
  Fun!  Fun!  Fun!
  Lots of places to explore
  Organized for individuals/families to explore the North Shore of Lake Superior
  Opportunities for socially distant gathering.
We're planning a rolling rally beginning August 20, 2021 to escape the summer heat in Region 8.  We'll begin the rally at the Pammel State Campground near Winterset, Iowa, and end at Fall Lake Campground located in the Lake Superior National Forest near Ely, Minnesota.  You can join us anywhere along the rally stopping points and leave the really as your schedule dictates.  Participants will make their own reservations and should do so as soon as the reservation window opens for the campgrounds we'll be using.  Please let us know no later then January 31, 2021, if your interest in participation in the rolling rally.  Contact Lee and Joyce Cantrell at ljcan@twinvalley.net.  You will them be provided with the campground information and itinerary so you can make your reservations once the reservation windows open.  It is important to make reservations sooner rather than later since 2021 is predicted to be a busy camping season and camping sites go quickly in Minnesota and Iowa.  We are limiting the number of units attending to fifteen and to current VAC members.

You MUST contact Lee to reserve one of the spots on this rolling rally!
Some campsites must be reserved NOW.  Please contact Lee NOW.
---
2020 Events
---
VACmidwest – VAC Region 8 Spring Rally – Dates: May 7-10, 2020
Vintage Airstream Club of the Wally Byam Airstream Club
VACmidwest Schedule Changes
Out of concern for the health of you, our friends and the community at large, we have cancelled the VACmidwest Region 8 Spring Rally 2020.
Reports are that the campground currently is still open, but that could change.  Hosts Tom & Shirley Herron worked with the camp ranger and park board for approval of a refund of your camping fees (minus the $4 on-line registration charge).
Here's the direct quote from the ranger "Because of the virus concerns, the Marion County Conservation Board has allowed for full refunds of all camping fees, this does not include the $4.00 reservation fee that the website charges when making the reservation.
So the options to cancel a reservation this spring would be to reschedule for a later date or request a refund, the refund will come in the form of a check mailed from the Marion County Auditors office."
Contact Ranger Mike –   RobertsCreek@iowatelecom.net to cancel for campsite.
Please provide arrival date and an address to mail your refund.
---

Dates: May 7-10, 2020
Location: Robert's Creek EAST Campground,1631 Fillmore, Otley, IA
DO NOT turn into the West Campground
6 miles west of the city of Pella on County Highway G28

In addition to the festival we will be near Knoxville Sprint Car Track and Museum.
Also nearby is Red Rock Reservoir and Damn and Visitor Center.
And the Cordova Tower, where 169 steps takes you up 106 feet to be able to view out 35 miles.

Pella Tulip Time
Hosts: Tom & Shirley Herron
Herrons13007@gmail.com
Phone: 515-988-4950 // 515-556-9339

Email Kathy Allen if you'd like to volunteer to host any VACmidwest event
Contact: vacregion8@VintageAirstreamClub.com
There have been some changes since last at Roberts Creek East. Last year they completed a new loop that is A thru ZZ full hookup electric, water and sewer. all gravel pads, back in, $25 a night bookable now.

Attendees responsible for own reservations.

Campground Map Reservation Website:
https://www.mycountyparks.com/Facility/Campsite/Default.aspx?Keyword=Roberts%20Creek%20East,%20Campsite%20#A
---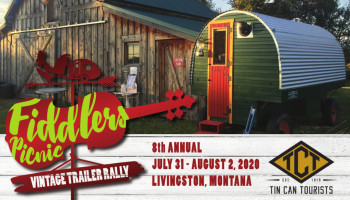 8th Annual Fiddlers Picnic Vintage Trailer Rally
July 31 – August 2, 2020
Join us (and 500 pickers) July 31 – August 2, 2020 for the eighth annual Fiddlers Picnic Vintage Trailer Rally.  A Tin CanTourist rally open to all . . .
It's on the grounds of the Old Mercier Ranch on Stong Lane on the south side of Livingston, Montana. $25 contribution, with all proceeds going to the Picnic. Event decal, pancake breakfast and the meat portion of a potluck. Dry camping though! http://www.vintagetrailercamp.com/event/fiddlers-picnic-vintage-trailer-rally-2020/ Contact: dalsmilie@aol.com