2021 VAC Rendezvous (28th Rally)
Wednesday, July 14 – Saturday, July 17, 2021
Please join us at the beautiful Cedars of Lebanon State Park for the 2021 Vintage Rendezvous rally. This state park is only ten miles south of Lebanon, TN, so it's a close commute to the International rally that starts a few days later.
All participants must make their own reservations (Click Here). Please pick Camping Area 2 as your first option to keep most of our group together. We will post an itinerary of activities during the rendezvous, which will include a catered dinner, swap meet, entertainment, open house, parade, etc. A rally fee will be collected at a later date.
The Tennessee State Parks website is easy to use and very informative. You can also call them to reserve your spot (a real human actually answers). Please don't delay making your reservation even though this rally is still months away, if you want to camp with the other VAC members. Camping and RVing have become extremely popular these days, and campgrounds fill up fast. TN State Parks will issue a refund if you cancel within 48 hours of your arrival. NOTE: The $5 reservation fee per site is non-refundable.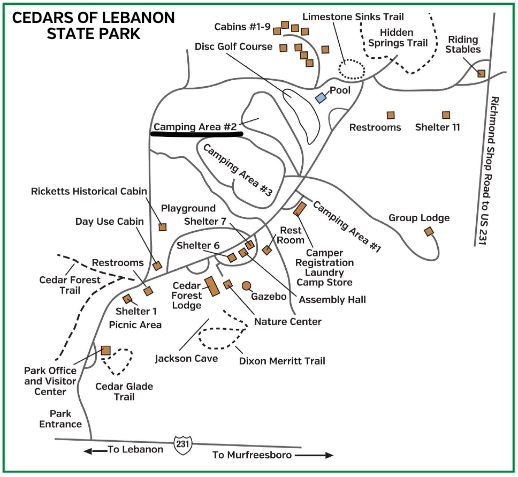 Further info:
Cedars of Lebanon State Park
https://tnstateparks.com/parks/cedars-of-lebanon
328 Cedar Forest Road
Lebanon, TN 37090
Phone 615-453-2769
Please contact Lisa Sly, VAC First VP, at lisa.sly@att.net for questions. I look forward to seeing
all VAC members in July in Lebanon, TN.
2020 VAC Rendezvous (27th Rally)
We are sad to say, the 2020 Rendezvous has been canceled due to COVID-19 and the cancellation of the 2020 WBCCI International Rally.  But we are hosting a Virtual Open House on June 20th, 2020.  Check your email for updates from the VAC on this event.

We are pleased to announce the VAC 2020 Virtual Rendezvous June 20 ,2020 starting at 3:30 CT. The event will be hosted via Zoom.  We are asking VAC members participating in the virtual open house to provide a short video (1 to 2 1/2 minutes in duration) of their vintage trailer.  Participants of the virtual Rendezvous are not required to submit a video to partake in this event.  It is recommended your video entail a brief introduction and a limited tour of your trailer highlighting the uniqueness of the unit.  Prior to the virtual Rendezvous an outline of events and video scheduling will be provided. The VAC board is looking forward to greeting all participants and an eventful Rendezvous.  We hope you will join us for this unique event.
If you where not able to join live, here are the videos that the VAC members submitted.
---
2019 VAC Rendezvous (26th Rally)
"Flamingo A Go-Go" VAC Rendezvous July 17-20,2019 in Powhatan, VA at Cozy Acres Campground.  Rally fee is $25.00 per person that includes dinner with entertainment and a flamingo lawn ornament.  There is a decorating contest for the best looking flamingo.  Bring clothing depicting your decade of your trailer. (Example: I have a 1962, so I would wear hippie clothes). So dust off your poodle skirts, bell bottoms, high top shoes and polyester pants! Potluck and social hour will be going on as well.
---
2018 VAC Rendezvous (25th Rally)
…and: VAC Caravan, VAC Bend Classic 25th Anniversary Rally.
By Dave Morrison, VAC President 2018-2019
Description coming soon…
Rendezvous, 25th Rally, Museum

Rendezvous, 25th Rally, Gazebo field parking

Rendezvous, 25th Rally

Rendezvous, 25th Rally, Museum

Rendezvous, 25th Rally, Gazebo field parking
---
2017 VAC Rendezvous
by Victor Blood, VAC President 2017-2018
The 2017 Pre-International Rendezvous Rally was held July 17 to July 19 at the Summer Breeze Campground and RV Park in Iron Mountain, Michigan. This was about 1 hour West of Escanaba. 31 vintage Airstream trailers and 59 VAC members from across the country gathered for fun and fellowship. The park featured very large wooded sites, a swimming pool, canvas pavilion and was located out of town in the country. The new owners had only owned this park for 4 months and went out of their way to accommodate our rally as did the local Chamber of Commerce.
The rally was unstructured except for happy hour and evening meals so participants could go to the many attractions in the area. Among those were the Cornish Pump and Mining Museum, Big John's Iron Mine, fishing, boating, hiking, river rafting, kayaking, canoeing, bird watching, golf and a great show by the nationally ranked "Ski-ters" water skiing team.
Evening meals were excellent and included a potluck on Monday, a charity fundraiser Tuesday served by the local Kiwanis Club and "Pasties" on Wednesday served by the local Pastie Kitchen Restaurant. A "Pastie" is a 16oz. meat, potatoes and veggie filled dough crust that the local miners took to work for lunch.
There was at least 50 feet of grass between my Trailer and the next, so, we easily set up seating in a big circle under the trees for meetings and meals. Tuesdays meal was at the pavilion because of a brief rain, but, that quit just in time to serve the meal.
The conclusion of the rally saw almost all participants travel to Escanaba where they joined other Airstreamers for the VAC parade thru town and into the International Rally.
---
2016 VAC Rendezvous
by Steve Laxton VAC President 2016-2017
This Rendezvous was canceled due to severe weather and flooding at the campground.
---
2015 VAC Rendezvous
by Iain Cameron VAC President 2015-2016
Friday June 19 to Monday June 22, 2015
Vallecito Resort, Bayfield CO
www.vallecitoresort.com
Story by Mary Doster #3794 and photos by Rhonda Cooper #1967
The VAC Rendezvous was a huge success with 42 Airstreams in attendance, including a few people on cross country travels from Florida, Pennsylvania, and Tennessee.  We met at Vallecito Resort, just east of Durango CO, where we had great accommodations and a friendly, very helpful campground.  Iain Cameron did a wonderful job in planning this vintage gathering with the assistance of resort staff.  On Saturday night, we indulged in sinfully good marinated meats arranged by Iain and the Sunday night BBQ was a great evening of burgers grilled by our Airstream BBQ chefs on several barbques provided by the campground.  Of course, none of this would have worked if it had not been for the great dishes prepared by the participants to accompany the protein.
There were restoration seminars each morning and everyone then had the afternoon to enjoy the area.  The surrounding lakes were a special treat and Durango was not far away.  We had an open house and invited the full timers living and working in the park to see the beautiful Airstreams.
On Monday, we made our way to the bullpen at McGee Park in Farmington NM, and lined up for our traditional VAC parade into the international rally.  Of the 42 rigs present at the Rendezvous, 21 of us went onto the international rally, made our way slowly around all the parking areas, and into our parking spots around the big white VAC tent.