VAC Signature Merchandise
The VAC now has a Online store with Lands' End, you can now get the VAC logo on any of the thousands of items that Lands' End sells.


---
The VAC garden flag is available directly through YouCustomizeIt.com.  They come in small or large sizes, can be single or double sided, and you can change the font and text to your liking. The flag stand is optional (you can probably find the stand locally).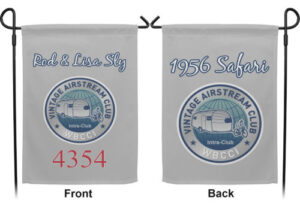 Select single or double sided

Select small or large

Select optional stand

Click "Customize It"

Start with front. Note "Content Inside Visible Area". Here is where you can change your name and number. 

Continue on back if necessary. Here you can add your Airstream year and model if you'd like.

Preview

Add to cart
---
The Vintage Airstream Club has the following VAC logo items available for members:

VAC Large flag (3'x5′) for $55, including postage

VAC Small flag (2'x3′) for $35, including postage

VAC Magnetic Logo for Tow Vehicle for $35, including postage Out of Stock

VAC official decal for $3 each, including postage


VAC official patch for $5 each, including postage

VAC official Baseball Cap for $20 each, including postage

VAC logo Tee Shirt, price depends on size, postage is calculated on checkout
All merchandise prices include shipping and handling in the USA except for Tee shirts. They are printed on demand and shipping is added by the vendor when ordering..  Shirts usually ship within 2-3 days of ordering. Please pay special attention when checking out to select the shipping charge: STANDARD (currently $ 4.75)  or EXPRESS. Express costs $ 24.44 and it is unlikely that you would need that.
Questions? please email DJ at quartermaster@vintageairstreamclub.com
To order online, click on item below.

Showing all 5 results